Newest Pectus Carinatum Brace Revolutionizes the O&P World
PHOENIX, AZ – March 2017-  After two years of research and development, CureVentions officially introduced their newest innovation for pediatric patients diagnosed with Pectus Carinatum- the Pectus emBrace™. The Pectus emBrace™ is transforming the current bracing method by integrating a one hundred percent non-metal system with a remarkably low profile design. The brace also claims exceptional comfort, which leads to extended wearing time and ultimately accelerated treatment times.
"We wanted to challenge and improve the current bracing method while still using compression as our means of correction." says Joseph S. Pongratz, CPO, FAAOP, and Founder of CureVentions. "The Pectus emBrace™ does just that and we are thrilled to introduce an innovation with kid's comfort and treatment in mind."
Due to its maximal comfort and sleek yet effective design, patients have continuously seen great results in virtually no time. The metal free nature of the device adds to its success in that children can maintain full mobility and participate in physical activities without any restrictions or ever having to remove it. "The more comfortable the brace, the more it is worn, and the quicker the overall correction is." says Pongratz.
Patient 'John Smith' visited a Pediatric Surgeon in December of 2016 and was told that his Pectus Carinatum required surgical treatment. With the Pectus emBrace™ and four months time, John's visual prominence improved in its entirety, notably enough to conclude his treatment. His success – along with several others – is not only a profound stepping stone for CureVentions, but also for the way in which all Pectus Carinatum braces will be designed in the future.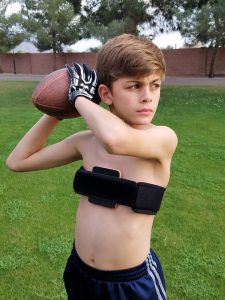 Image: Patient featured wearing the Pectus emBrace while partaking in physical activity.
Courtesy of Pongratz Orthotics & Prosthetics